Rzethon 2016 - hackathon by G2A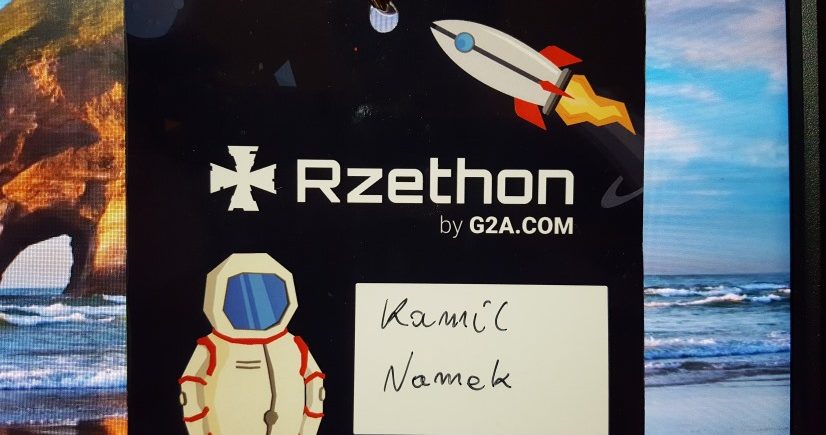 The weekend on 10-11 December this year was a blast. 30+ hours of no sleep, including 24 hours spent on project implementation. Had 3 teammates and lots of fun inbetween. Let's dive in to my short post mortem about the first edition (hopefully, not last) of Rzethon!
First, we prepared our horses
This picture says it all - I can't go into space alone, I need a team: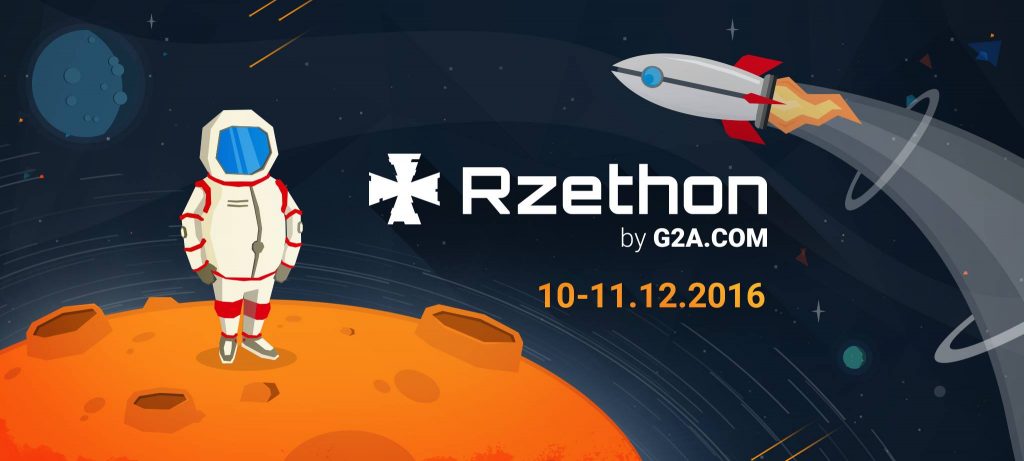 Theme
Theme was known long before the event started - "Podróż na Marsa" which could be translated from polish as "Journey onto the Mars". However, it's worth to note that polish word "podróż" could be a trip, journey or travel so it's rather fuzzy term.
My team
I gathered my team after my talk about Daj Się Poznać 2016 on rg-dev #2. We prepared ourselves to bring some fun to our life instead of fighting like lions for prizes that are easily available to buy on our own.
Our project
Hackathon organizers published the theme long before event so it was a bright signal - brace yourselves! Because you do have a good concept or you're one of those who can't produce thoughts, probably.
Brainstorming kept surrounding practical things but I was strucking off logistics/database-like projects. At our first meeting when not everyone knew each other, we managed to bring up the idea of something that we called MMS.
Mars Message System
Humanity will land on Mars. That's for sure. It's expected to happen on small scale in the beginning so it's essential to collect feedback about travel and living there to continue colonization. Contacting on huge distances seems a critical matter in that case. And Mars is just the beginning so design should be like Internet. TCP is there since 1974, even though it was never expected to live so long or used by so wide (even unaware of tech) audience.
So we decided to make a simulation of potential system designed to deliver intergallactic messages by taking time and delivery issues into account.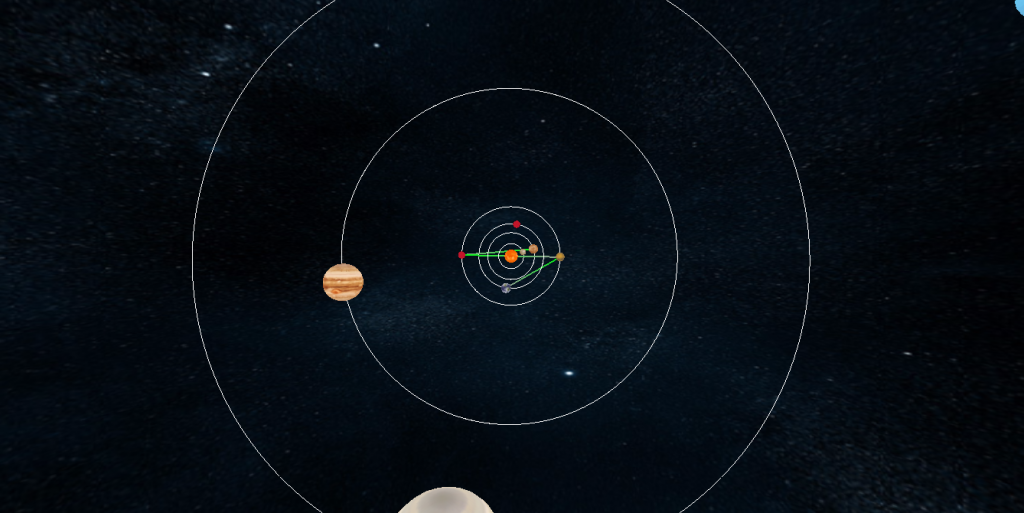 The Event!
Gifts
Gifts for starters. Gamedev-like printed student calendar, T-shirt, some small ball, a pen, note with sickers and code to try PVP Center - new platform for gamers.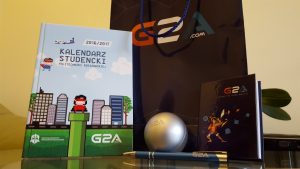 Among of these, it's all great but T-shirt is the best: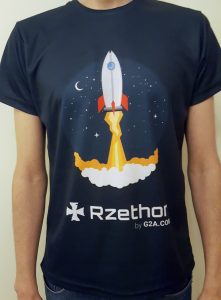 It mentions G2A but it's mostly about rocket flying into space and "Rzethon" itself. It's got a really nice quality of material.
Lots of food!
At least, more than I would expect. Honestly, you could gladly survive without personal supply.
Coffee, some tea, Red Bulls and Gorące Kubki (let's translate to "Hot Mugs" - tasty small instant soups in in a mug) at morning!
Pizza, lots of pizza. And buns at morning.
White chocolate fountain with some fruits and waffles was a great place to stop by.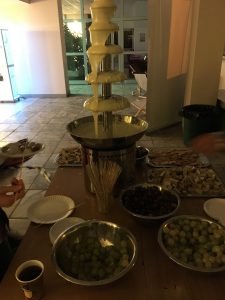 Attractions
in first 2 hours you could test Microsoft Holo-Lens. I didn't touch this one, but I'm pretty sure I'm going to do this on next occassion.
later there was Oculus with authorship projects from G2A.
I've seen one of those projects before and it's a really nice show. Having Oculus on my head I was "driving" some small steampunk-ish seaboat by sightseing ancient civilization buildings under the water, omitting Megalodon (or whatever some freaking big fish-like sweamy living thing) and more pretty details like fishes, some flora, cramped places and the best one - drama with broken front glass causing a sinking signal sounding like a serious error. Pictures and emotions, nice.
before hackathon there was Firebase training organized by GDG Rzeszów. Our teammate was there and got a nice mug.
Live stream!
Small championship - contestants played Icy Tower on big projected screen: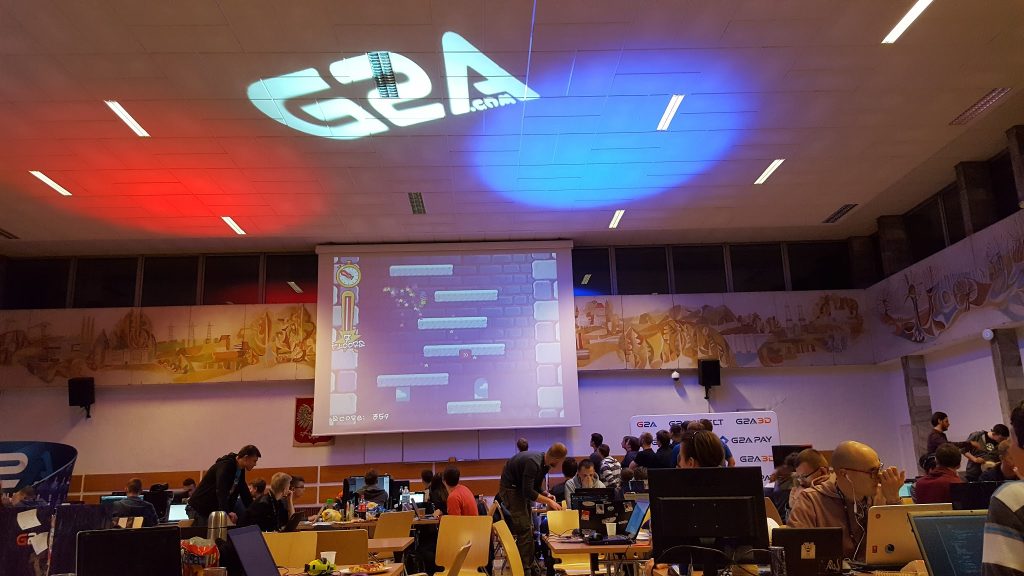 GAMES. Xbox One and old Nintendo with pistol. To the left of Xbox for whole day people were shooting to ducks.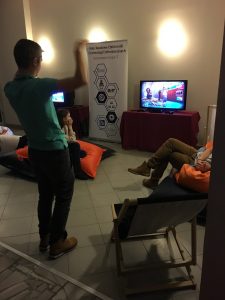 machine that would take photos of you and your team and then have them printed right away
fund-raiser for child care home
Mentoring
I don't have official info about it but I remember only people from G2A. I've heard from other teams that some of them were really helpful.
In our team no one have used Docker in such deep level as imagined for this project, so there was a G2A'nian who knew this stuff much better than us and gave some clues about achieving our use case. There was also a good fellow who tried hardly with our Android app :)
Some of them wanted to speak, asked if we needed any help. That's nice. Honestly, I feel bad about responding one guy "Why [cosmic planets in] CSS?" like it sounded "who the fuck are you, go away" but I was so into bug in the code… I don't know you but forgive me :) 24h seems to be a lot but bugs provide feeling of having much less time than reality consists of.
Jury
After 24 hour marathon was done, I felt that we couldn't won without Oculus or stupid idea of selling something that already exists and wouldn't provide any value on Mars, so I wasn't really interested in jury's verdict or all other projects.
However, I walked around some of the teams. People were very nice.
And then jury met us. My teammate made a 5 min presentation by the desk and it was fantastic speech, even forgetting to note that he didn't sleep for a lot of time and was very active during whole event. I couldn't take this speech as my own, I would do it differently, hovewer comparing the quality would be questionable. Thanks Michał. You amazed our whole team in the end.
Rest
There were sunbeds. Some poeple were sleeping on poufs.
I couldn't resist the sunbed for a nap: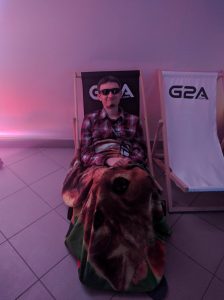 so later I jumped into my own sleeping bag for about 45 minutes.
However, this was near the place where Xbox was placed (and played by various people for a whole night LOL!). If Gears of War wasn't the game of moment then you could surely take a nap.
Finals
Throughout 20+ teams only 9 of them were selected to present results of their work on big screen. I don't know the real key winners, however there was The Chosen One.
I don't know the guy but we've heard that he happened to be left behind because his teammates gave up and didn't finish anything at all. He won the special prize and I must say, what I've heard in little more details, it's a real show of courage, determination and surprisingly no self-harassment at all :)
Summary
I couldn't not say I was (and still am) really proud of our concept for a project that day-night. We didn't even get into first 9 projects but we learned a lot and I had looooots of laughing. As it is proper for hackathons, adrenaline was tasteful and struggles were delicious, even having some headaches, computer crashes and lack of Nirvana until math started working again.
Whole event was prepared with passion (and surely, with some money) put into it.
I'd like to say greatly thank you to organisers for providing such wonderful conditions to have fun. But next time, replace Icy Tower with Quake 3.
References